No home improvement hobbyist nor any professional contractor ever wanted a below-quality tool. We all crave for the quality of great demands, high quality and cheap, isn't it? I guess. The Bosch GMS120 Digital Multi-Scanner Review brings to one of the best stud finders with great quality.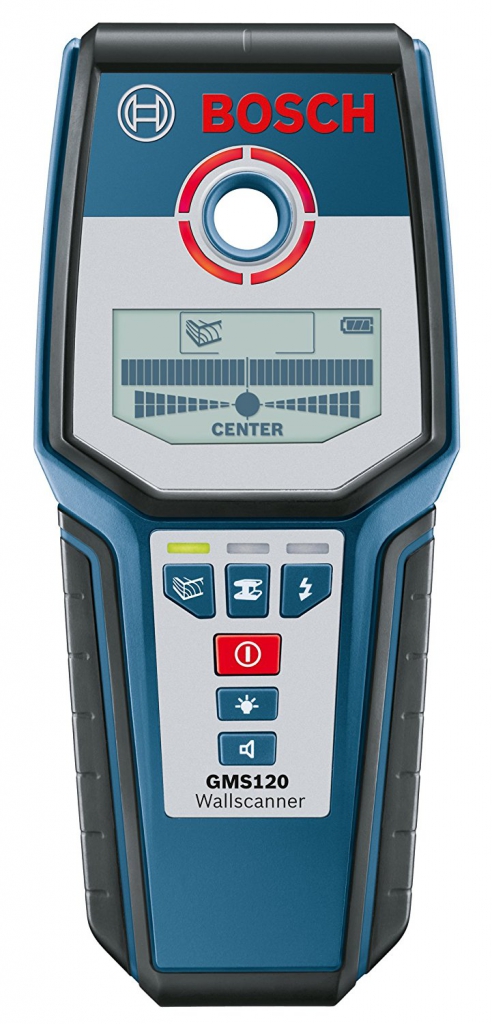 The Bosch GMS120 digital multi-scanner is not a bulky product that would make you work irksome, but on the contrary, this product makes you love what you do. It has a customer friendly features that make it appealing and attractive.
Let's consider its functions, having got yourself with some piece of junks called stud finders and you sincerely got not a bit of satisfaction from them? Now, it's time to let go of them and consider the use of a 3mode scanner that would scan metal' wood studs, and AC live-wiring perfectly.
Bosch GMS120 Digital Multi-Scanner Review | 5 Major Features
1. Multi Scanner
This product gives you the best of the services you'd ever look for in digital stud finding gadgets. It has three main inter-switchable moods for finding studs, metals and live wires. Its scanning doesn't affect the copper pipes flood.
This product automatically calibrate as soon as it's on i.e. if you are operating on low scanning parameter, and the parameter is not detecting the object, then it switches over by itself. Isn't that awesome? Yes, it is. This perfectly helps you to encounter less stress.
2. Great Graphics Display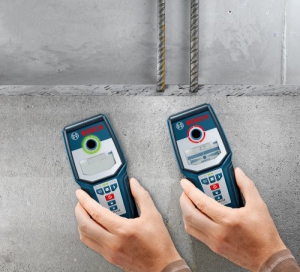 Apart from the large display of which mode you are using. You can also get a graphic depiction on the screen of your gadget. What do I mean?
You will see an atom like-ring structure at the front of your screen board, the big ring indicator flicks steadily with green light color when it hasn't detected a target, while it turns red when it sees a metallic object, wood studs and unprotected AC wires.
It also indicates by making sounds which is a great feature for eye deficient hobbyist. It indicates the power strength of the gadget also. I guess is an amazing product if you would ask me.
3. Quality Deep Detection
Are you an electrician, a carpenter or a professional contractor; you seek for a handy work tool that can give you absolute comfort while using it? You obviously don't have to worry much as the Bosh GMS120 digital multi-scanner is capable to make clasp of various sizes to be discovered with ease and fun.
It can be helpful as it's expected to detect metals (non-ferrous) that's 4.75inches deep, and 3.2inches deep for ferrous in cure concrete, 2inches for live wires and 1.5inches for wood studs. (Please note: If the thickness of your wallboard exceeds that's of metal findings then it may not be so good for you).
4. Inimitable Center Finding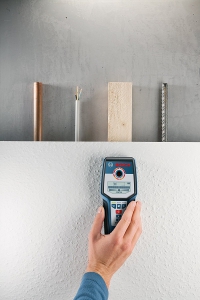 This product notifies users after one has hovered it around the same spot. It indicates by beeping and displaying of red color on the screen of your Bosh GMS120 gadget. It kind of makes a sonorous stabilizing sound when it's at the point of focus.
5. Quality Battery with Nice Package
It has a dependable fitting battery that will definitely help you to greater productivity as to the fact that you don't need to rally-round when you battery go drain when you already have a substitute. This product brings the best out of your work. It's fast to respond to metals and other targeting materials.
Check The Latest Price on Amazon, Now!
Why should you use Bosch GMS120 Digital Multi-Scanner?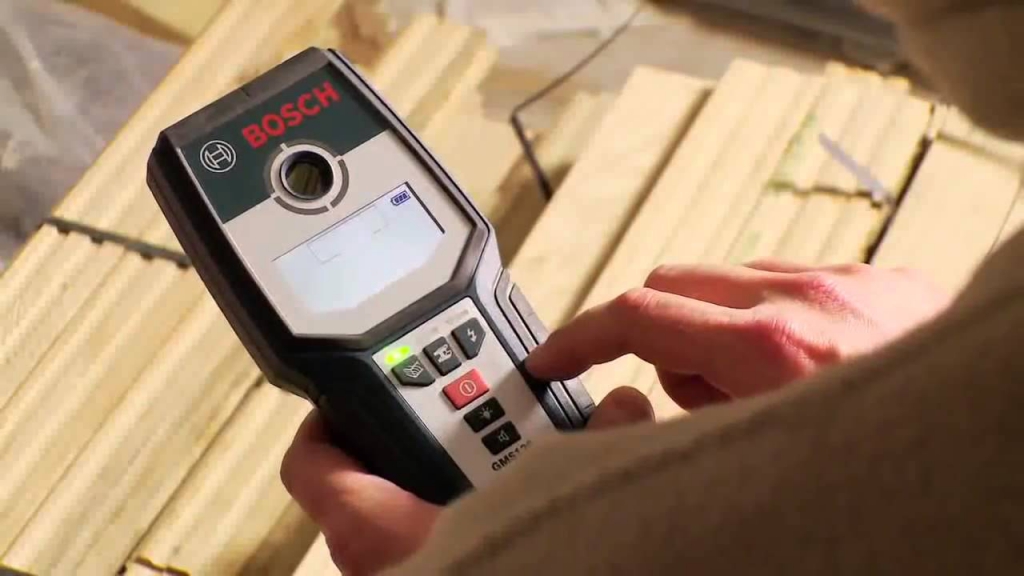 1. Low Vulnerability
Most hand tools are very susceptible to quick spoilage if they encounter concurrent usage. The Bosch GMS120 digital multi-scanner is one of the best when it comes to long usage; with no errors to look out for, you're definitely on a safer side with its precision quality.
2. Handy                                                   
The manufacturer has carried out a tentative review of how versatile a world-competing-digital-stud-finders can be in shapes, sizes, color and so on. That's why they've come out with this fascinating product in consideration of the health of its users to give the best.
3. Dependable Service from its Manufacturer
Having discussed the manufacturer in the preceded sub-heading to this (handy). Let's discuss this in more salient manner. Perhaps you've bought this product just of recent, and you don't get all the features, the manufacturers follow you up until you're satisfied, even if it cost them replacing the gadget for you with another. It's a WOW!! I guess.
4. Cheap
This product can cost you as low as $30 on Amazon. Are you serious? Of course, isn't that cheap for a mere hobbyist to evaluate and contractor to opt for? So great in value that you never can tell with just ordinary product reviews.
5. Reliable
The Bosch GMS120 digital multi-scanner is reliable to the core. It's best for first users as they can easily grab the prerequisites for making it a great use.
PROS
It's portable.
Very easy to use
It's appealing and reliable
It comes with package ( A 9volt battery)
It comes with guaranty
It last long
It's cheap
It's a 3mode digital multi-scanner
It finds center of studs so easily
CONS
It doesn't work for plastered or lathed walls.
It doesn't find the edges of studs
It doesn't have distinguished notifying features for its three modes.
FAQ – Frequently Asked Questions
Can one trust this product?
Answer: Yes, you can with its automatic calibration feature which switches to other notches so easily.
I used this product, when it detects wood it'll beep and when it detects metal it also beeps. How can I use this?
Answer: it takes various readings, the intensity it uses to detect metal is way far from wood. The metal takes a while before its detected. So, one can easily be intuitive to this differences as it switches.
Can it be used on plastered walls?
Answer: This product is not great for detecting targets behind plastics.
How can I get this?
Answer: You can get it by visiting the company's website.
Final Verdict
This is the endpoint of the Bosch GMS120 multi-scanner review, in order to augment the reviews. It's well believed that product that well suits one's work and makes one's work convenient is worth paying well for. This premise or axiom, whatsoever it may seem like, have become daunting because of the massive niggling reviews.
However, many users don't even measure the thickness of the work feed before they are carried out their duties. It's mandatory to put all these into consideration before using it. You can surely get great use out of it with its inimitable features.