Renovate your toolbox with a multi-functional hands tool to home onto studs and clandestine targets. Studs, joists, and AC live wiring will become a search for a needle in the haystack if you go DIY and tool-less. Black & Decker BDL190S Review relates to a cutting-edge invention from a manufacturer who went to great pains to build a better mousetrap.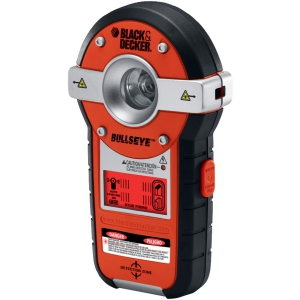 It merges two tools in one-an auto-leveling laser level and
a stud finder
for more versatility and convenience. Equipped with the BDL190S, you draw targets like a moth to a flame-including wood or metal studs and live A/C wiring.
Black & Decker BDL190S Review | 5 Major Features
1. Stud Detection
The BDL190S arms you with a stud sensor to comb through surfaces to detect wood or metal studs and live AC wires. The electrical field locator can detect studs through up to ¾" thick drywall. Push the button and hold it. LCD will light, and detector runs the initialization process.
The READY icon will pop up on the LCD screen, and the unit will sound once to alert a complete calibration and ready for scanning. If it hits a stud, a "STUD FOUND" message illuminates onscreen.
Probe with a snail's pace and keep sliding until EDGE message appears and beep sounds. You can pin down the center of the stud which lies between marks.
2. Patented Auto-Leveling Technology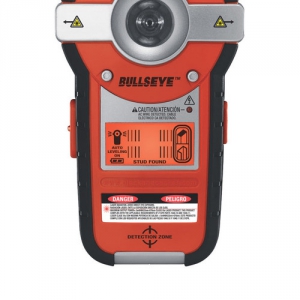 BDL190S cuts the mustard if you want to mount a new shelf or portrait. It comes with BullsEye auto-leveling laser that levels automatically without variations and projects a horizontal laser curve. It's impeccable for test and measurement levels alone.
The built-in laser level auto-aligns for 5 seconds with flexibility and handiness. You can project the laser beam to a length of 20 feet; it levels automatically for ultra-accurate BullsEye readings.
The auto-leveling laser levels make hanging pictures and mounting decorative items a piece of cake. And it punches in with impressive laser levels viz. leveling accuracy: ±1/8 inch (3 mm) @ 10 feet (3 m) and auto Leveling range: ±4.5°.
3. AC WIRE SENSING
Test on an existing "live" AC wiring before every use. It scans and ranges in "live" AC wiring up to 1-1/2" from the surface. The sensor pins down AC voltage and cherry-picks only live wires. AC voltage scanner works in high gear as you prod for studs.
It comes in handy if the sensor lies proximately to live AC wiring or detector button becomes depressed. If it identifies AC voltage, the LED (C) will light. Avoid calibration near live AC as it diminishes the device's sensitivity. Ensure you turn off the unit when probing proximate electrical wires and pipes to avoid accidents.
4. Simple Operability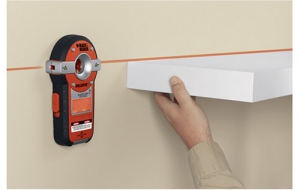 Black & Decker BDL190S detecting components for wood or metal studs or AC wiring nestled in the lower portion of the unit help you comb through surfaces. To detect studs, hold it straight up and down placing it flat on the surface.
Press in and keep the ON/OFF button, the LCD screen and audible sounds help you home onto the target's center by sandwiching it between marks.
The laser unit renders readings for walls only while it produces level lines when placed against a vertical plane. It's equipped with a pendulum-lock to halt oscillation if you switch off the laser. Inbuilt AC Detection remains active as you trace studs.
5. Hands-Free Operation of Laser
You can mount on other surfaces other than drywall. For these surfaces, the keyhole dangling cone works with a standard nail or screw in a pre-drilled hole.
To use the keyhole dangling cone, put it on a nail and screw with the narrow part of the opening projected upwards. Press the laser onto the slinging cone until it falls into place. To detach the laser, lift it a bit and pull it straight off.
It will also do the job with the slinging cone attached to the rear and then hang the tool on the nail and screw. Ensure its straight and nestled tightly on the cone and keep it secure on the wall.
Check The Latest Price on Amazon, Now!
Why should you use Black & Decker BDL190S?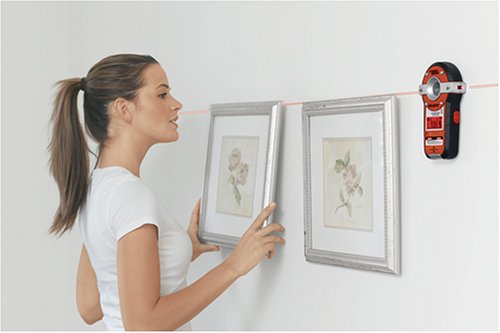 1. Auto-Leveling Laser
Addition of an inbuilt laser level helps you hang a portrait or a new shelf on a wall. You will not need additional measurements or readings, the inbuilt laser level auto-aligns after every 5 seconds. With a laser length measuring 20 feet, you can operate laser lines and hang on drywall surfaces.
2. LCD Screen
The Black & Decker BDL190S comes with an intelligent and easy-to-read LCD that gives scan readings.LED (C) represents AC WIRE SENSING, READY message and EDGE icon on the LCD screen, as well as beeps sounds, help the user to home in targets with improved precision.
3. Battery
The selling point of the BDL190S derives from its battery-powered assembly. It's convenient as it does not impose branded battery or energy sources that nickel-and-dime you to death. You can wing it with batteries for your remote control.
4. Straightforward Stud Detection
Grasp the hand with your thumb on one edge and your fingers on the other side. Move it at a snail's pace when scanning and hold it straight up and down, corresponding to the studs the and it will give you midpoint marks.
5. Hands-Free Operation of Laser
To hang the appliance on a wall, detach the orange protective cap from the drywall pin and keep it on the cone. Push pin into drywall, keep it straight and nestled firmly. It allows you to mount on drywall surfaces in a super-easy method.
PROS
Dime-a-dozen 2AA batteries with low battery indicator on LCD screen
STUD DETECTION pokes through up to ¾" thick drywall
AC WIRE SENSING zeroes in "live" AC UP TO 1-1/2", identifies live wires and AC voltage
Auto-leveling laser lines to mount objects against
Intelligent and intuitive LCD
Soft and ergonomic grip with an ultra-durable, high-impact resistant case
Two-in-one technology bands together a laser level and stud locator
CONS
Cannot detect studs on materials with inconsistent density such as carpet, padding, wallpaper with metal foils or fibers and freshly painted surfaces
FAQ – Frequently Asked Questions
My Black & Decker BDL190S keeps finding too many studs in the search area, how do I troubleshoot?
It detects other objects; studs lie 16 inches or 24 inches apart with 1-1/2" width.
The Laser does not project on the wall?
Use it against vertical walls only. Lines bend on slanted walls and other non-vertical surfaces.
Does the unit come with a case?
Yes, it includes a sturdy, durable case.
Can the device put out right vertical lines if turned 90 degrees?
It will only work horizontally; vertical slants do not render a sharp line.
Can you use it to mount a drop ceiling?
If you have the skills, it should work due to its perfect light.
Final Verdict
Pinning down studs beneath walls or mounting pictures make a fine kettle of fish. Black & Decker BDL190S Review two-in-one unit accomplishes it at the drop of a hat.
BullsEye auto-leveling interior line laser and stud sensor combination tool makes it ideal for hanging pictures, pinpointing wood or metal studs, homing onto live AC wires, and installing decorative objects.
On vertical flat surfaces, the auto-leveling laser evens out automatically without adjustments and illuminates horizontal laser lines. It comes with a precision-functioning LCD that manifests stud finding data, low battery level and readings for precise probing.
To keep everything aboveboard, it packages AC wire indicator LED, Wall Attachment keyhole, wall attachment drywall pin, self-leveling laser lines, and cover.